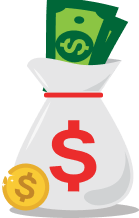 Take some time to recommend
get
500 EUR

to spend
Subscribe now!
Join our Referrals Network and stay updated with our latest Hot Jobs of the Week.
Are you a Recruiter? Make the most of your hunting efforts and keep your Candidates interested by referring the ones you currently don't have an opportunity for.
Refer a friend for a chance to win his gratitude and a nice referral fee.
Easy as 1, 2, 3
Send an email to
[email protected] with your referral's LinkedIn or CV
+ extra info is welcome if you have
it (desired salary, industry, role).
If your referral is hired
BAM! you get 500 EUR.
No strings attached, no extra conditions, no fine print.
Buy yourself something
nice.
It's enough for a very fancy dinner
or a city break, Your choice!
Think for a second and then send us an email. You can make 500 EUR for 5 minutes' work
A few facts about referrals
A good referral saves an estimate of 1000 sheets of paper printed CVs. Eco-friendly!
A targeted recommendation can save up to 10 hours of shifting through CVs and calling applicants. Take a short Friday!
A good recommendation has been known to generate surprise presents from the people you recommend. Build relationships!
Highly targeted matchmaking